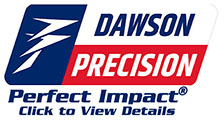 •Dawson Competition Black Fixed Rear .225 Tall x .135 Notch Width
•Dawson Fiber Optic Front Sight .205 Tall x .105 Wide
•Easy to Install - Sight Punches, Allen Wrench and Instructions Included!
•Perfect Impact Policy Applies *See Details*
•CNC Machined From Bar Stock To Exacting Specifications
For years Bo-Mar rear sights set the standard of which all other rear sights were judged, so why not make a fixed rear that uses that knowledge. Dave Dawson set out to improve on that and make the best fixed rear sight on the planet for competition and target shooting. The blade is back angled 3 degrees to reduce glare. The deep notch provides more visual reference for faster precise windage alignment. This also gives the shooter the advantage of tracking the front sight better during recoil and placement on target, for those tight hardcover shots. The serrations on the black sights are designed to draw your eyes to the HiDef sight notch, providing a clear, crisp sight picture, yet snag free on outer profile. Chamfered to break all sharp edges and not rub you the wrong way. The competition black .135 notch rear sight with .105 wide fiber optic front provide Dave Dawson the best focus for his average eyes and is what is on all of his Glock's.
Don't Forget The Loctite 262 Threadlocker Works on front and rear Glock sights
• .225 Tall x .135 Notch Black Competition Rear • .205 Tall x .105 Wide Fiber Optic Front Sight • Serrated Back Angled Blade To Reduce Glare • New EZ Fit Dove Tail With Install Tools Included • All Corners are Chamfered for Comfort and Won't Snag Shirt
Write A Review
POA-POI , installed without any issues, quality product at a fair price. Will recommend and would buy again.

I was looking for something to give me a leg up in a local stock class competition where you can only make open sight modifications to your pistol. After looking and many different brands I decided to go with Dawson and I'm so glad I did! It took just under a hour to fit these sights to my glock 19 gen 4, and they look fantastic. Plus out at 15 yards I'm hitting golf ball sized groups which you wouldn't even be able to see with stock sights! For the price you can't beat them and supper fast shipping! I'll be buying again!

Gold standard for comp sights

These are an absolute must have for any serious competition shooter. The narrow front sight allows for easy target acquisition and sight alignment on targets beyond 25 yards. The sights mount firmly and do not come loose. They are of high quality and do not damage easily.

Excellent for competition

I've shot Glock pistols for nearly 15 years. I've used all type of sights, from factory Glock plastics, several brands of night sights, and TFOs. For my night-stand pistol, I still like the TFOs. But for competition, nothing beats the Dawson Precision. The FO front helps with quick target acquisition and the black rear helps keep your focus on the front sight where it belongs. I am converting all of my competition Glocks over to the Dawson Precision sights.

Bright fiberoptic front sight

The bright fiberoptic front sight is easy to pick up during Daytime and low light.
I have these sights on 1911's, G34, G27 and now the polymer 80 G19's. The wider blacked out rear notch helps with sight alignment for my aging eyes.
Jay in customer service is the man! I recieved ZERO static when I called to exchange my suppressor height for the competition sight set.
Customer service is really 1st class for a great product.

I put together a Glock 22 with 6" threaded barrel and added a sight block for USPSA Limited. I have us ed Dawson sights on 2 other competition guns, so I knew they wouldn't fail me. But I really had no idea if this would work. My worries were not warranted. Installed in minutes. Centered the sights. No further adjustments needed! This new rig is a 20 yard tack driver. Perfect! So not hesitate to use these sights. Thank you Dawson!

Great sights, prefect fit

I have purchased two sets of these sights now, one set for a Glock 19 the other mounted on a 17, both guns are used in Steel
Challenge competition. The sight height and rear notch/front sight width are the perfect combination for all of the varied ranges of this game.
Dave Dawsons experience here is evident, his formula was spot on for both of these guns. At age 69. I can't even name all of the iron sights I've tried, to no avail, I thought that carry optics was my only recourse, these sights put me back in production class where I really want to be, in fact on very bright days with sun directly on the targets, these sights are much easier to pick up than any electronic dot sight that I own, and I own some very high end ones. I would highly recommend them and Dawson precision to anyone.

Draws your eye to front sight

Great range sights. Love the black rear, no added distraction from the front sight. Easy & fast for me to get an acceptable sight picture & also accurate for bullseye. The rear sight notch width/front sight width combo seems perfect. They installed easy with no fitting or filing required. I suck much less using these sights.

These fixed sights are so much better than the original Glock 34 adjustable sights. Able to pick them up and get on target quicker. Easy swap out. Just doubled the fun factor! Would I recommend these sights? Yes! Worth every penny.