"BUY ONE GET ONE FREE"
NOW COMES TWO TO A PACKAGE FOR THE SAME PRICE!
The Ice® Magwell is the fastest, easiest, most consistent magwell for IPSC competition. Made to exact tolerances for a tight fit. When you beat up the insert, the magwell is untouched. Go ahead and pop in a new insert. It takes seconds and you will have it looking and functioning like a new magwell again.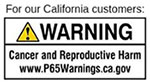 Write A Review
I definitely love my Dawson Precision ICE magazine well. It works great, looks great, and is designed great. I haven't needed to replace the Magwell Inserts for my GLOCK Ice by Dawson Precision yet...but I know I will need to someday (maybe) and wanted a spare or two on hand! It's better to have it and not need it than to need it and not have it, right?! Ha!