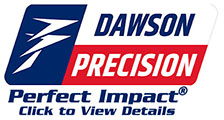 •
Set fits 9mm and 40S&W with standard dovetail fixed sights
•Dawson Competition Black Fixed Rear .200 Tall x .135 Notch Width •
•Dawson Skirted Fiber Optic Front Sight .205 Tall x .100 Wide Patridge
••Easy to Install - Sight Punches, Allen Wrench and Instructions Included! •
•Perfect Impact Policy Applies *See Details* •
•CNC Machined From Bar Stock To Exacting Specifications
Write A Review
Perfect!

The front side went right in without any fitting work needed. The rear required a bit of filing. Entire install was less than 30 minutes. (I used sight pusher instead of punch.) Tested out to 20 yards and POA/POI seemed spot on shooting off hand. Front fiber is easy to pick up in the wide rear notch. I only regret waiting so long to upgrade.

Excellent sights, easy to install, great replacement for factory 3 dot white sights. Easy ordering process and super quick delivery

Excellent Sights, great price!

Installed these sights on my 320 Full size. Easy installation, great YouTube videos for support. I use this gun to shoot IDPA and USPSA matches. Much easy to see sights quickly. I now see the reason all the best shooters use Dawson Precision sights! If you want take your Sig 320 to the next level get these sights. You will not be sorry.

Competition sights are only Dawson Precision!

Dawson Skirted Fiber Optic Front Sight .205 Tall x .100W is easy to pick up. It does have a bit more wiggle room than I am used to. I have a .125W front on my Walther PPQ and it is perfect for my eyes. I will give the .100W some more trigger time and change it if I need to.

Point of impact is exact at 10 yards with these sights on a full P320 slide. Included punches are a plus. Dawson sights highly recommended!

Set arrived quickly and required minimal hand work to install. The directional install arrows are appreciated. Took to the range today and took 10 shots each at 15, 20, 30 , 40 and 50 ft and did not have one shot outside the 3" ring till the 30 ft mark. Best of all the height was right on. Great set of fiber optic front and black rear sights.

front sight fit very easy . rear another story, it took a lot of filing and time to fit.

Just got these for my new P320 in .40S&W ... sure they will be as great as they are on my 9mm reviewed above!
I've also installed the on a couple P320's for a buddy of mine ... 9mm and .40, because he REALLY like my setup.