This set is unique to the 75 D Compact. It will not work on the 75B or 75 Compact.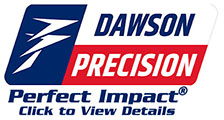 •
•Dawson Carry Fiber Optic Fixed Rear .250 Tall x .125 Notch Width •
•Dawson Fiber Optic Front Sight .130 Tall x .100 Wide Patridge
••Easy to Install - Sight Punches, Allen Wrench and Instructions Included!
•Perfect Impact Policy Applies *See Details* •
•CNC Machined From Bar Stock To Exacting Specifications
Write A Review
The kit includes everything you need to install these sights yourself. But.. you will need a 1/16" pin punch and the OEM sights need a smaller hex key, which you also have to supply to remove the OEM sights.

I just wanted you to know that you will need a couple of extra tools, plus some 220 grit sandpaper to "fit" the new sights. I am very pleased with the sights, the PCR funky rear sight cutout perfectly, and the FO elements really POP in natural light