This set is unique to the P10-C Compact. It will not work on the 75B or 75 Compact.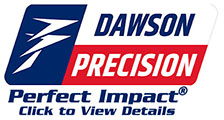 •
•Dawson Carry Black Fixed Rear .275 Tall x .125 Notch Width •
•Dawson Fiber Optic Front Sight .155 Tall x .125 Wide Ramped for Carry
••Easy to Install - Sight Punches, Allen Wrench and Instructions Included!
•Perfect Impact Policy Applies *See Details* •
•CNC Machined From Bar Stock To Exacting Specifications
Write A Review
This is my 4th set of Dawson plain black rear and fiber optic front sights. It's the combination I see the best. It took a bit more stoning these than it did on my Glock's but finally got them in. Don't think I'll need any Loctite as they are really tight fitting. I haven't shot it yet as its hot as rip here in Georgia but will soon. The factory sights I replaced were centered and right on so I will don't expect to have to move the Dawson rear very much if any to get them on target. When I'm satisfied they are on target I will change the front to green as I see it better than the red.

A great upgrade from the stock sights

I really prefer a fiber optic front sight and plain black rear and these sights are a solid performers that fill that need nicely. Front slid right in rear required minor fitting. Really like the fact that Dawson gives you some tools to help with installation.
I like them and I'm happy with the product. I will be buying sights for other guns in the future.

Needs a U notch rear sight

I was hoping to get a small front sight and a U notch rear for better sight picture. The front is good but the back sight is sloped and not wide enough for me.

Cz p10c fiber optic black rear /Dawson Precision

This is not the first fiber optic sights I have purchased from Dawson Precision and won't be the last. on the CZ p10 they were really easy to install, I replaced the night sights that came on my FDE pistol, I am older now and I can shoot well with these sights, But you don't have to be older to love the difference they make. If you are not sure ,you won't be sorry you got em.


I have Dawson sights on two of my pistols now and they work like a charm. The front sight is bright and quick to pick up, while the blacked out rear is well defined and precise, but doesn't draw attention away from the front sight. I prefer the fiber optic over tritium, I find it easier to see in the daytime as well as in most low light conditions. Installing the sights is best done with a little 400 grit sandpaper and a padded voice though, as the tolerances are extremely tight.

I just received and installed a set of sights for my CZ P10.
The quality is great, instructions were helpful.
After some minor adjustment of the rear sight the pistol shoots to point of aim.
I have been a Dawson customer for years and have always found their products to be well suited to my needs and at a fair price. I also appreciate their prompt shipping.

I had a gunsmith put the sight on. I didn't feel I had the expertise to put this in or the tools needed. The front sight red was way too small and had to put another red that was bigger to see with. Very accurate, but wished the front optic was larger.

These are xcellent sights. The give you good sight picture with a low profile. Mine rear sight required a bit
of fitting, but a few strokes on a honing stone took care of it.

Recently picked up a P10c and was pleasantly surpised Dawson already had a sight out for it. I've been a fan of their plain rear/fiber optic front for my other pistols, so this was exactly what I was looking for.

Sights came with two different punches for the front and rear, extra fiber optic rods in green and red plus the necessary Allen wrenches. Very happy now that they're on my P10c and I've tested them out.